The Areas #1 Alternative Lodging to Casa Grande AZ Hotels
If you're looking for Casa Grande AZ hotels, consider a more personal stay at Saguaro Whispers. With only 4 units available, we're able to provide guests individualized service, private casitas, and lovely common areas for guests to enjoy. Aside from your private casita, guests are welcome to enjoy the other amenities of the property, such as our charming patio and dining area with waterfall, outdoor fireplace, and a BBQ grill. The inn welcomes you to make yourself at home. We encourage you to pick up groceries for meals so you can enjoy the beautiful kitchen and patio spaces. Don't forget to bring a bottle of wine or local beer to add to your relaxing stay.
The Breakfast Bistro & Kitchen Area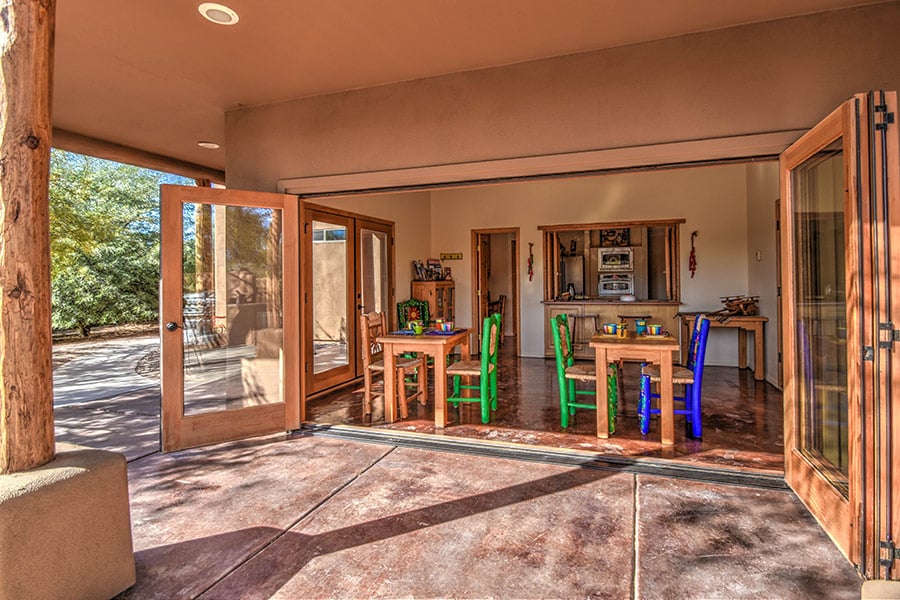 The Patio with BBQ and Waterfall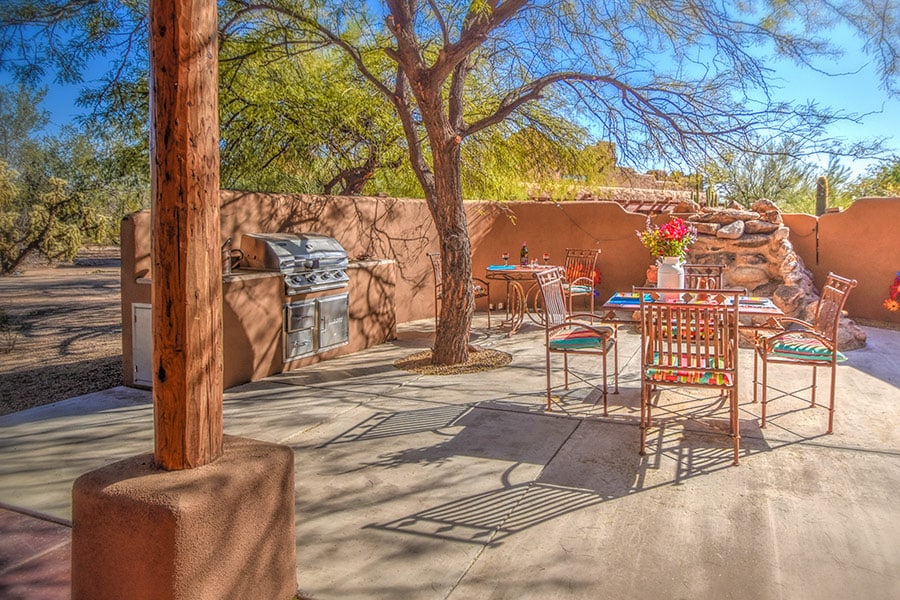 Inn Policies: Check-in/Check-out, cancelation policy and other terms:
Check-In: 4:00 PM
Check-Out: 11:00 AM
Cancellation Policies:
16 days or more from arrival: full refund of deposit minus $50 processing fee
16 days or less from arrival: no refund of deposit
Reservation balance due at check-in
All Terms and Conditions apply:
No visitors or parties allow
Room rates include lodging and use of common area
Keep/maintain common area (i.e. kitchen, grill, patio) clean after use
Only registered guests are allowed on property
Not suitable for children under 12
1 parking space per Casita; 2 parking spaces for La Casa Grande
50% deposit due at booking; balance will be charged at check-in
No pets
Please be kind to our furniture and property
Damages and extra cleaning will be charged to credit card on file
Check Availability, BOOK NOW!
Saguaro Whispers and COVID-19
At Saguaro Whispers we are fully committed to the health and safety of both our guests and our staff. We regularly monitor updates regarding COVID-19 from the Centers for Disease Control (CDC) and follow their guidance and recommendations.
Saguaro Whispers has always taken great pride in providing the highest standards of cleanliness. When COVID-19 entered our community, we added additional sanitation and disinfecting protocols to our daily cleaning routing. Additionally, all staff must always wear face mask and wash/sanitize hands frequently.
To help ease you mind, here are a few of the added precautions we have taken:
Public Space:
Frequent cleaning/disinfecting of high-touch areas (door knobs, handles, tables, counters)
Hand sanitizing stations throughout the property
Posted signage remining guests to social distance and wash/sanitize hands frequently
Casitas: The casitas are our guests' sanctuaries and we want everyone to feel safe, that is why we:
No contact check-in (keyless entry)
Clean and disinfect thoroughly between guests
Disinfect high-touch surface/s (knobs, handles, counters)
Provide hand sanitizing gel in each room